Registered Charity No: 1176075 (CIO)
Whitecross, Lanteglos-by-Fowey PL23 1NF
Whitecross Village Hall is a lovely historic building dating back to 1896.

Facilities for Hire
While retaining its historic character, Whitecross Village Hall now offers modern facilities with a large hall and stage and a well equipped kitchen and parking, making it an attractive venue for meetings, exhibitions, wedding receptions, parties and other functions and events in the Fowey / Polruan area and further afield, at very affordable prices.
WiFi is available in the hall and the hall also has disabled access and disabled toilet facilities. If you are interested in hiring the hall, click here for more details.
What's On at the Hall
The monthly Local Produce Market and regular meetings of the Gardening Club and other local organisations take place at the hall. For more details, see the Hall Bookings Calendar and our What's On page.
Hot from the Hall ...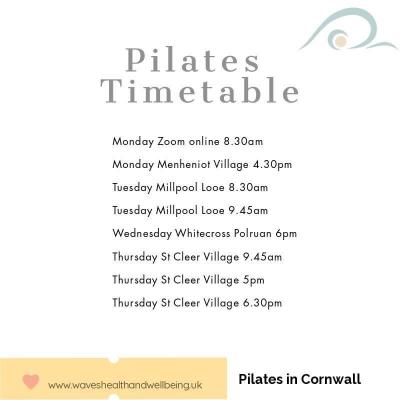 Pilates Timetable
Please see above the revised Pilates Timetable
YOGA & MEDITATION
Hi everyone,
✨I teach an ALL-LEVELS YOGA CLASS in Whitecross Village Hall every Monday AT 6pm. Please join me for a flowing class focusing on the breath, gaining strength and flexibility - and just for fun!

✨I am also going to trial a MEN'S YOGA CLASS starting on Tuesday 28th February at Whitecross Village Hall. Please spread the word and encourage any men in your life to give it a go! No experience necessary.

✨ Finally I am offering a MEDITATION TASTER SESSION on Monday 3rd March at 3pm for those who want to try it out and start their meditation practice or look to improve their current practice. There will be tea, coffee and snacks included in a beautiful and relaxed environment at my home studio in Pont.
✨If you enjoy the class, and/or want to dive straight in, you can sign up to the full 6 WEEK INTRODUCTION TO MEDITATION COURSE. More info on the website!

You can book onto to all on the website but any questions please let me know!
Take care & see you soon,
Georgie x
Georgie Kay Yoga & Wellness
07909227789
www.georgiekay.yoga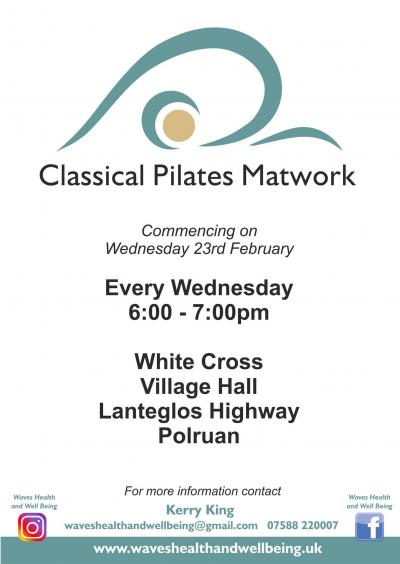 Pilates Classes
GET FIT FOR SPRING!

Pilates classes
at Whitecross Village Hall

Wednesday at 6.00 pm

For more details please contact Kerry.
waveshealthandwellbeing@gmail.com
07588220007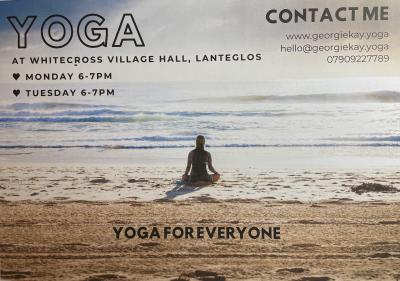 YOGA CLASSES
YOGA CLASSES AT WHITECROSS VILLAGE HALL.
PLEASE CONTACT GEORGIE TO FIND OUT UP TO DATE DAYS AND TIMES.
07909 227789
hello@georgiekay.yoga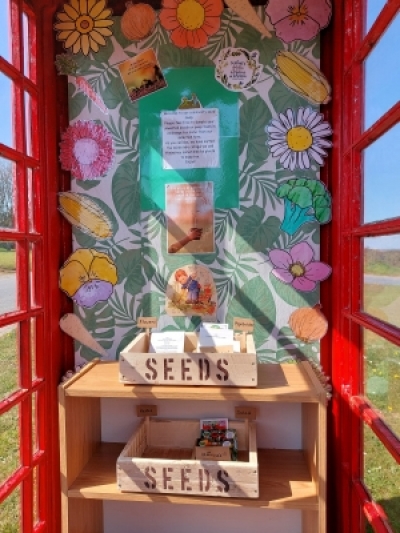 To Plant A Garden is to Believe in Tomorrow
COMMUNITY SEED SWAP

Spring has arrived and it is time to start thinking about bringing our gardens back to life again.

We can help!

Come and visit our new Seed Swap located in the telephone box on the corner opposite Whitecross Village Hall.

Please feel free to donate your unwanted seeds or swap them in exchange for seeds already donated. We will also be happy to include small plants which need a new home.

HAPPY GARDENING