Registered Charity No: 1176075 (CIO)
Whitecross, Lanteglos-by-Fowey PL23 1NF
Whitecross Village Hall is a lovely historic building dating back to 1896.

Facilities for Hire
While retaining its historic character, Whitecross Village Hall now offers modern facilities with a large hall and stage and a well equipped kitchen and parking, making it an attractive venue for meetings, exhibitions, wedding receptions, parties and other functions and events in the Fowey / Polruan area and further afield, at very affordable prices.
WiFi is available in the hall and the hall also has disabled access and disabled toilet facilities. If you are interested in hiring the hall, click here for more details.
What's On at the Hall
The monthly Local Produce Market and regular meetings of the Gardening Club and other local organisations take place at the hall. For more details, see the Hall Bookings Calendar and our What's On page.
Hot from the Hall ...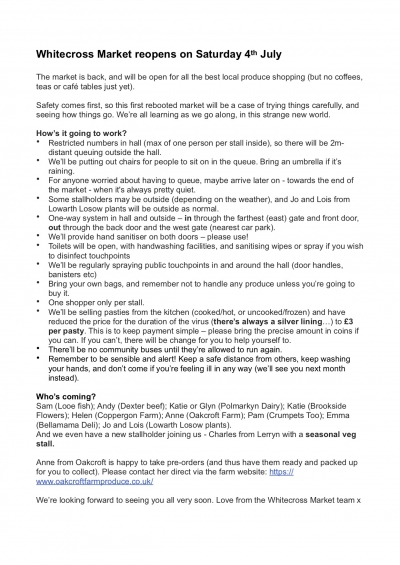 RETURN OF OUR LOCAL PRODUCE MARKET
The market is back, and will be open for all the best local produce!

Shopping will be different due to the current Corvid 19 restrictions.
Social distancing and hygiene controls will be in place.

BUT

Familiar faces will be around and we can all look forward to a friendly chat (from a distance!) with people we may not have seen for over 3 months!

A few pasties are being cooked. First come first served!!